"I mean, imagine how some unfortunate Master Criminal would feel, on coming down to do a murder at the old Grange, if he found that not only was Sherlock Holmes putting in the weekend there, but Hercule Poirot, as well."
I do love a good mystery. Thoroughly for my own enjoyment, I've come up with a list/review of
detectives I've watched or read. Enjoy. If you want to keep up with news on this front, you can follow my detective Tumblr blog, Murder 'Orrible Murder!
Or check out Murder! 'Orrible Murder!'s Twitter and Facebook accounts.
If you're feeling a bit overwhelmed, check out
my handy index
. The rule is, generally, to class an entry under the heading of the main detective's surname - therefore, Agatha Christie's Poirot goes under P. However, in the case of an ensemble cast, or partnership with no apparent protagonist, I go by the show name itself. For instance, you can find Broadchurch under B. This is sometimes a bit subjective - Life on Mars is under T for Tyler, but its sequel, Ashes to Ashes, is under A. Once again, I recommend consulting the index.
Alleyn Mysteries
Inspector Roderick Alleyn of Scotland Yard. I've only read one of the books (by Ngaio Marsh), but all eight of the TV adaptations with Patrick Malahide are pleasant, Golden Age mystery material. Alleyn is a gentleman detective, but since it's actually his job, he's more business than Peter Wimsey. The two are still similar: Alleyn's an elegant and levelheaded sleuth, a dapper dresser, and extremely conscious of social propriety (he's mortified when he falls asleep in an arm-chair at a lady's house).
His sidekick, Inspector "Brer" Fox, is the classic working class foil to the aristocrat detective, but he's interesting enough to hold his own, and there's a companionable respect between the two. Agatha Troy is the love interest, a feisty, slapdash contrast to Alleyn's fastidiousness, and she often gets caught up in cases, occasionally doing a bit of investigating on her own.
The noir music and Fox's and Alleyn's crooked fedoras give it a sort of Sam Spade feel, but the content rests firmly in the Golden Age of detective fiction.
Several episodes have extremely memorable side characters, particularly the bizarre Final Curtain. It's really too bad they only made eight episodes; it's one of the best.
Two seasons, eight episodes (nine, if you count the first, which featured a different actor as Alleyn).
Favorite Episode: Final Curtain.
Robert Amiss Mysteries
This series isn't so much about mystery as it is ideas. Ruth Dudley Edwards uses a sequence of entertaining murders to satirize political correctness, social conservatism, puritanical liberals, traditional Muslims, priggish reactionaries...in other words, pretty much everyone.
Robert Amiss (Ay-miss) is a civil servant. He's quite lost amidst murder and mayhem, but when it visits his life (frequently), he joins forces with his friend Inspector Jim Milton to get to the bottom of matters. Additionally, there's Milton's sergeant, detective fiction expert Ellis Pooley, and Amiss's girlfriend, Rachel.
The real star of the show, however, is Baroness Troutbeck, commonly known as Jack. Much like Gene Hunt (of
Life on Mars
), she's the extreme fringe character who comes to dominate the narrative. But Jack - a hard-drinking, hard-cursing, traditionalist bisexual (don't hear that one every day, do you?) - isn't merely a bizarre relic to remind us how far we've come, unless it's in the wrong direction. Much of the time, we agree - and are meant to agree - with Jack's assessments of the wishy-washy. She's a splendid dose of irreverent common sense. As she observes: "Hypocrisy is the cement that glues us all together."
But you really must find the audiobooks. They're a hoot. Narrator Bill Wallis takes something amusing and makes it a riot.
Books (1981-2012):
Corridors of Death
The Saint Valentine's Day Murders
The English School of Murder
Clubbed to Death
Matricide at St. Martha's
Ten Lords A-Leaping
Murder in a Cathedral
Publish and Be Murdered
The Anglo-Irish Murders
(favorite book)
Carnage on the Committee
Murdering Americans
Killing the Emperors
Favorite book:
The Anglo-Irish Murders.
And Then There Were None
A gorgeous adaptation of Christie's novel featuring an absolutely marvelous cast, this miniseries has atmosphere by the bucket, and the guts to keep Christie's original ending. I really can't gush enough about this film, but a warning: it's very dark.
My full review.
Arthur and George
Playing on the upsurge of interest in the world's
favorite consulting detective
, ITV enlisted his creator, Sir Arthur Conan Doyle, to do a spot of investigating on his own. Well, technically, they enlisted Martin Clunes (who, incidentally, is
Jeremy Brett
's cousin) to play him, but they didn't have to invent the story, because Conan Doyle really did investigate the case of George Edalji and the Wyrley Rippings.
In the series, Doyle is accompanied by his loyal Watson, Alfred Wood, who goes by Woodie, and that's about the only interesting thing about him. Sir Arthur, on the other hand, is quite a colorful character, a confident, eccentric Scotsman (whose accent is in-and-out), though not as eccentric as a man who believed in fairies should be. His love affair with Jean Leckie is also rather superfluous to the real business of the series, which is investigating the bizarre, grotesque ripper crimes.
The crime is really the center of attention, and it comes complete with creepy notes, mutilated animals, a didn't-really-happen murder to up the tension and a wasn't-really-discovered culprit to provide resolution. When it's all over, the denouement in which Arthur sorts out his life was really less interesting to me than what we didn't see - George sorting out
his
life. I'd have loved to hear more about the life of Shapurji Edalji, his father, the first South Asian vicar in England. But this would probably mean wandering into the realm of invention.
Overall, a pleasant enough one-off story, with some spooks and period glam to spice up a historical mystery.
One season, 3 episodes.
Ashes to Ashes
The sequel to the hit series,
Life on Mars.
It recycles the formula of detective transported to the past, but this time it's Alex Drake, a police officer who was studying Sam Tyler's case. She is introduced to the surly, crass Gene Hunt and his crew - Ray, Chris, and newcomer Shaz.
Alex - played with surprising and irritating ditziness by the intelligent Keeley Hawes - is nearly as much of a damsel in distress as Sam Tyler, but, unlike him, has a complete lack of chemistry with Philip Glenister. I find it hard to believe Hunt should respect her as a character when he has shown no tendency to suffer fools gladly.
The show as a whole loses some of the force and magic of the original. Gone is the warmth of the 70s, replaced by a glamorous 80s which doesn't feel like the rough and tumble world Gene Hunt should inhabit.
It's true that I've only seen three episodes (Hulu Plus subscription expired), so perhaps things change.
Ashes to Ashes: Three seasons, twenty-four episodes.
Available on Hulu Plus.
B.
Death Comes to Pemberley
Let's face it, we all wanted to know what Elizabeth Bennet would be like as a detective. Besides, it's
P.D. James
.
Once her romantic troubles are behind her, the discovery of a body in the grounds of Pemberley throws Lizzy Darcy into an entirely different set of adventures. As it turns out, Lizzy isn't a very good detective. This isn't entirely her fault. For one thing, she doesn't get to do much active investigating (that comes down to Mr. Darcy). For another, the mystery itself is sub-par for James, and the romantic subplots concerning Georgiana are not very interesting.
As for the three-episode TV miniseries spawned from the novel - the first episode is excellent, borrowing extensively from the milieu of the 1995 Pride and Prejudice. Unfortunately, the next two throw in some drama that feels utterly out of place in either Austen or James's world.
One season, three episodes.
Partners in Crime (1983)
Tommy and Tuppence Beresford are Agatha Christie Lite. Around her more serious sleuths (Poirot and Marple), Christie created a husband-and-wife team who solve exciting adventurous mysteries. There's hardly any blood to be seen. It's the essence of light-weight entertainment.
The main attraction is if you want a bit of a laugh at the pair's ridiculous parody-style antics. The TV series was more interesting, if only to see what crazy hat
Francesca Annis
would wear in the next scene, or whether
James Warwick
would actually be interesting. It's also quite dated - taking place before the golden age of Christie adaptations (see David Suchet's Poirot and Joan Hickson's Marple).
One season, 10 episodes - plus a full-length film: The Secret Adversary.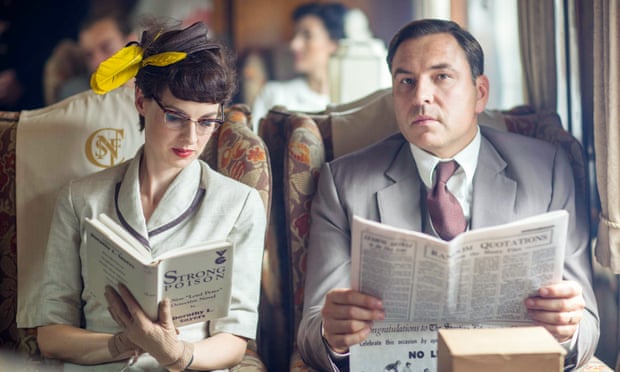 Partners in Crime (2015)
Given the imminent end of
Agatha Christie's Poirot
and
Marple
, it was inevitable that Christie's lighter detectives would receive a reboot, and so they did. Unfortunately, some particularly boneheaded casting, coupled with insultingly
facile
writing sunk this series before it even got started.
David Walliams and Jessica Raine just. don't. work. together. I mean, sure, we can't all be Mulder and Scully, but the Beresfords' chemistry is so bad it should be measured in negative numbers. Happily, while Tommy and Tuppence are a loss, the series distracts from them with the occasional interesting character actor and lavish period visuals. Alas, that's pretty much all it has going for it. Waste of time. Awful.
One season, six episodes.
My reviews:
The Secret Adversary
Episode 1
Episode 2
Episode 3
N or M?
Episode 4
Episode 5
Episode 6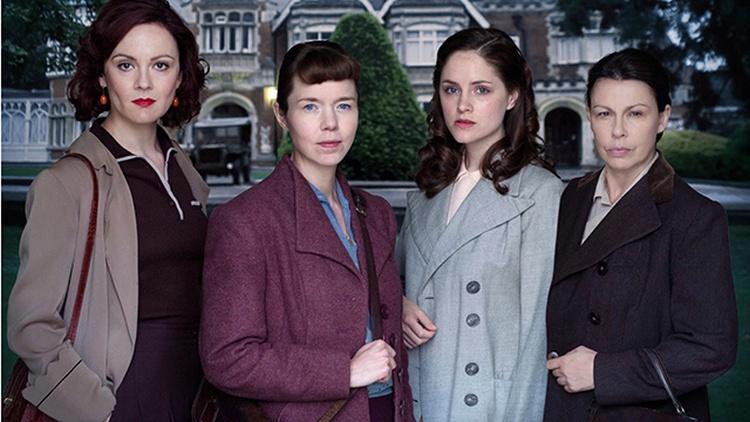 The Bletchley Circle
...are a group of four brilliant women employed as code-breakers during WWII. Susan is strong and sensible (Anna Maxwell Martin's forte, it seems) and has a keen eye for patterns. Timid Lucy has a perfect memory. Millie, saucy and determined, adds some
oomph
. And Jean rounds off the group, anchoring them with an older sensibility and no-nonsense attitude.
The story actually picks up nine years after their war work. The four have wildly different lives. Susan, the unofficial leader, is married with two children - something which is supposed to be incredibly dull.
For a while, I thought this might be a fun Young-Kick-Butt-Miss Marples-showing-up-policemen deal, but the introduction of a serial killer put paid to that idea. The material is too dark for the premise, and doesn't allow much of the light-hearted wit which the first twenty minutes hinted at. Also, it's very heavy on the feminism, at the expense of the story. The men are either a) sweet but rather dim, b) unhelpful, c) abusive, or d) a serial killer. While it has tons of potential, it denies itself the indulgence of own ironic charm - the idea that a housewife could be this brilliant. First, they despise the idea of housewives and two, they're not brilliant. Check out Miss Marple, an actual brilliant spinster.
Two seasons, seven episodes.
Broadchurch
Alec Hardy and Ellie Miller are one of my favorite duos, though the show isn't really about them so much as it is about grief and self-knowledge and all that jazz. Hardy (David Tennant) is the outsider, a rude Scotsman with a dark past, while Miller (Olivia Colman) is a tough, warm-hearted mother of two. Together they hunt a killer who has turned Miller's town upside-down.
Tennant and Colman have a terrific non-romantic chemistry. They begin fighting from nearly the first moment they meet, but reluctantly begin to complement one another.
Here's my review of the first season.

The second season is ridiculously soapy, sacrificing much of the dignity of the earlier series for cheap drama. I'd give it a skip, but here are my reviews anyway (I spend most of my time making jokes at the expense of the characters.)
Season 2 -
Episode 1
Episode 2
Episode 3
Episode 4
Episode 5
Episode 6
Episode 7
Episode 8

Two seasons, 16 episodes (third and final season upcoming).
There was an American remake: Gracepoint.
Brokenwood Mysteries
A mix between
Twin Peaks
and
Midsomer Murders,
this gently quirky crime series brings the whodunit genre to New Zealand.
Detective Mike Shepherd is quite formulaic at first - a paunchy middle-aged white man with a handful of quirks and hints of a dark past (y'know: every detective ever). However, he quickly develops into an engaging and humorous lead, and his love of country music and talking to corpses are more than just quirks.
He's accompanied by Kristin Sims, a sassy detective who gets most of her fun picking on Sam Breen, the good-humored third member of the trio. After a solid if somewhat unremarkable first season, the show's had two very entertaining seasons, and is shaping up to be a reliable series.
One of the best things about the show is its supporting cast - the people of Brokenwood, from Jack-of-all-trades Jared Morehu to the gossipy Mrs. Marlowe. There's also Gina Kadinsky, as an eccentric Russian pathologist. Taken together, they start to make the town feel less like Murder County and more like a real place, with recurring characters. Also, all the Lord of the Rings jokes. I'm a sucker for the Lord of the Rings jokes.
Three series, 12 episodes - ongoing.
Father Brown
Next on the list is G.K. Chesterton's humble and childlike Father Brown. The good father often stumbles into mysteries by sheer providence, and halfway through the proceedings, baffles everyone by blurting something along the lines of "Oh, he didn't do it. His hair's the wrong color." Drawn by curiosity, the skeptics cross-examine him until, shred by shred, he unveils the obvious. Brown shows them what they should have seen for themselves, had they been looking at it the right way (which usually means upside-down).
Brown's methods are very much intuition-driven; he'll cross a suspect off the list because the man has a religious belief that doesn't fit the character of the criminal. He doesn't care much for proof, only for truth. Chesterton uses the medium of Father Brown to broadcast his theological views, particularly his love of paradox.
It elevates the story, making it more than just a mind-game and takes it into a place where one must think about ethics, ideas, and worldviews as well as motive and opportunity. There's very little realism - like most of Chesterton's fiction, it falls into a realm of fantasy-theology with a heavy dash of whimsy. That's the fun of it.
Father Brown (1974)
The 1970s adaptation starring Kenneth More is the most faithful to the books, though it has not aged well.
More was a former film star, accepting roles at
£25,000 a pop
, but he adjusted very well to playing the fussy, foolish Brown. The series was short-lived, and suffered from a low budget and hammy supporting actors. As contemporary shows demonstrated (I think of Raffles), the Brits had not quite finished mastering the art of the period drama. Dennis Burgess co-starred in five episodes as Flambeau.
One season, ten episodes.
While the Alec Guinness movie, The Detective, wasn't tremendously true to the books, Guinness was amusing, and the film retained a 1950s-style respect for the priest's vocation, missing, at first, in the BBC's ongoing series, Father Brown. For the first two seasons, it seems as if Mark Williams's Brown is the local sheriff. He might as well be, since it would give him just as much excuse to meddle, and he wouldn't have to make awkward theological pronouncements.
The following seasons change that.
Season three provides a more serious, unironic look at God and repentance which forms a refreshing change. The fourth season continues that trend, and the Flambeau episodes are very entertaining.

Once memory of Chesterton's original has worn away, it's quite an amusing way to pass the time.
In the books, there are no sidekicks (not counting Flambeau, a burglar redeemed thanks to Father Brown's efforts). They aren't really required for the short-story medium. The Williams series, on the other hand, has many. There's Mrs. McCarthy, his garrulous housekeeper, Lady Felicia, a flighty debutante (seasons 1-4), Sid Carter, a blue-collar chauffeur
(seasons 1-4)
, Brown's Polish maid, Susie (season 1 only), and Inspector Valentine (replaced in season 2 by Inspector Sullivan, and in season 4 by Inspector Mallory - accompanied by Sergeant Goodfellow). Hercule Flambeau, Brown's arch-nemesis and occasional ally drops in once or twice each season.
Five seasons, 60 episodes - ongoing.
Inspector Bucket of Bleak House. I couldn't quite resist, even though this isn't strictly a mystery show. Charles Dickens is one of my favorite writers, and Bleak House (which, actually, I haven't read yet) is one of his longest novels. In 2005, a fifteen-part miniseries adaptation appeared. It's excellent, almost on par with 1998's Our Mutual Friend.
Of the characters, a particular favorite is Inspector Bucket, one of the earliest detectives in fiction. Bucket, around halfway through the series, gets to head up his own subplot, uncovering the deceptions and crimes surrounding a will and a death. Alun Armstrong is perfect for the character - fastidiously quirky and understated, he ends up being much more memorable than his secondary status warrants.
C.
Jacobi as Cadfael; Pertwee as Hugh Beringar
Cadfael
Brother Cadfael of Shrewsbury Abbey is another character that I only know through the TV adaptations, where he is played by Derek Jacobi. Like Foyle's War, a large chunk of the attraction is the historical detail, because hey, murder in the middle ages!
In many ways, it's more historical drama than mystery.
Cadfael makes do with what criminological tools he has, most of which involve his knowledge of herbs and human nature, or clever trickery.
He is a Welshman who was a crusader and sailor (among other things) before becoming a monk. This background lends Cadfael a wider field of experience than one would expect of a man of the cloth.
(Though this isn't really necessary, as evidenced by Father Brown). An herbalist, Cadfael uses his knowledge of naturalism to catch killers. The way Cadfael tracks down a man by the flowers caught on the hem of his robe can sometimes seem a bit contrived - after all, only certain flowers grow in only one part of the wood? Since when? (Same with S. Holmes and various colors of clay).
But it is, overall, an interesting and satisfying excuse for Cadfael to be a better criminologist than your average monk on the street.
Cadfael is more broadminded than the rest of his order, and has some pretty interesting skeletons in the closet from his crusading days. Unlike Father Brown, you're not often to find many words of theological wisdom issuing from Derek Jacobi's mouth. He is a "wise" figure, but it stems more from hard-won common sense than foundational orthodox doctrine.
His anachronistic 21st Century sensibilities can be rather jarring.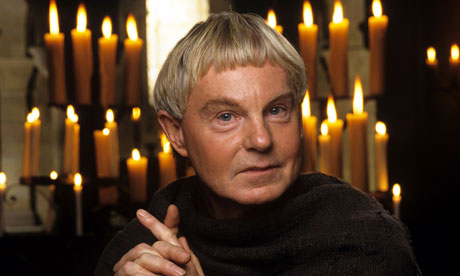 His sidekicks consist of Brother Oswin and Sheriff Hugh Beringar. Oswin is enthusiastic, but more eager than intelligent. He runs interference for Cadfael when the older monk's upset the higher-ups (i.e. the oily Prior Robert and his toady Brother Jerome) in the Abbey (which is fairly often). Hugh Beringar is Cadfael's ally "in the world", and Hugh often solicits Cadfael's advice for a difficult crime. (Of the three actors to play Beringar,

Sean Pertwee

, in the first season, is by far the best, for the others have no

chemistry

with Jacobi whatsoever.)
Four seasons, 13 episodes.
Campion Mysteries
Campion is a little like a less erudite, less charming version of
Peter Wimsey
. I gather that being dull is supposedly the point, but he seems to overdo it.
But Peter Davison is always fun to watch (I recommend The Last Detective) especially when surrounded by decent supporting actors.
His sidekick, Magersfontein Lugg (Brian Glover) is much more interesting. After all, he's a thug butler. Jeeves gone rogue! But he still seems to be more of a tougher version of Bunter, Lord Peter Wimsey's wonderful valet-cum-con-man, who came first.
Two seasons, 8 episodes.
Pie in the Sky
Inspector
Henry Crabbe's real passion is food.
In the first episode, Crabbe is on the verge of retiring and opening a restaurant, Pie in the Sky, when he's entangled in a case that casts aspersions on his professional integrity. Suspected of taking bribes, he's suspended by his boss, Fisher, who has been stealing Crabbe's glory for years. A final compromise is made and Crabbe agrees to stay on an indefinite suspension, running Pie in the Sky while acting as consulting detective for the local police.
Crabbe uses experience and common sense to get the job (or the omelet) well done. His sidekick is DC Cambridge, an intelligent and professional woman. His wife Margaret is much more interesting, and to his everlasting chagrin, can't tell the difference between fast food and caviar. Other regulars are ex-con Steve Turner, the assistant chef, his girlfriend, Linda, a waitress, John, a waiter, and Henderson, the food delivery man. Fisher turns up frequently, and it's hilarious to watch Crabbe bait him, playing dumb and driving him up the wall.
Overall, a pleasant, unpretentious relatively witty show.
Five seasons, forty episodes.
Bess Crawford Mysteries
Bess Crawford (of the novels by Charles Todd) is a nurse during WWI who solves the occasional crime on the side. While I've only read one of the books, it was rather bland. The crime was intriguing, the plot okay, the characters decent, but it needed some humor to lighten things up a bit. Quite similar to Agatha Christie, though with a greater realism. I enjoyed the atmosphere of wartime Europe, but it didn't have anything on Maisie Dobbs.
D. 
Adam Dalgliesh is the poet-detective, a reserved, professional man who eschews the wild eccentricities of his literary forebears to live a quietly interesting career catching killers. Author P.D. James's greatest strength is her elegant prose and interaction with the moral issues incipient in her dark, modern novels.

She drew from her own experience in the civil service and medical facilities to draw up pictures of tight-knight professional communities, ripped apart by secrets and violence.
James's appeal was incredibly broad; her artistry was exquisite. Ultimately, she did see an almost religious significance to mystery stories. She said:
"They're based on the fundamental belief that life is sacred and murder is unique and uncommon. . . . In a sense, detective novels are like 20th-century morality plays; the values are basic and unambiguous."
T

here is a TV series, but I've watched only a few episodes, and was unimpressed. Roy Marsden played Dalgliesh for many years, and then Martin Shaw for two episodes.

Books:

Cover Her Face (1962)

A Mind to Murder (1963

) Unnatural Causes (1967)

Shroud for a Nightingale

(1971) The Black Tower (1975)

Death of an Expert Witness (1977) A Taste for Death (1986)

Devices and Desires (1989)

Original Sin (1994) A Certain Justice (1997)

Death in Holy Orders (2001)

The Murder Room (2003)

The Lighthouse (2005)

The Private Patient (2008)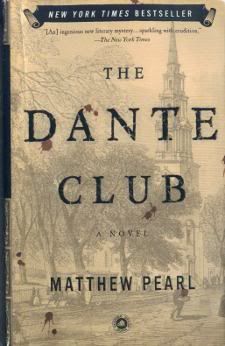 The Dante Club
Have you ever wondered what Henry Wadsworth Longfellow would be like as a detective? Me neither.
But it turns out he's quite good at it, leading up a coterie of awkward academics who must track down a serial killer modeling his murders on the tortures of Dante's Inferno.
As it happens, mild-mannered Longfellow, testy Oliver Wendell Holmes, and quick-tempered James Lowell are almost the only people who have the requisite knowledge to predict the murderer's actions, though they're helped out by Nicholas Rey, Boston's first black policeman.
While the book takes some time to get going, the richness of period detail and the grotesque murders kept my attention long enough for me to begin to invest in the characters, who provide welcome heart to a dark tale.
The Last Detective
D.C. Davies is a failure at pretty much everything. His wife, Julie, is divorcing him, his colleagues hate him, and the only people he seems to be popular with are old ladies. Frankly, "Dangerous" Davies is just too nice to be a policeman. As his boss puts it, "you're the last detective I'd put on an important job." Luckily for us, Dangerous keeps getting them - entirely by accident.
And oddly enough, he solves them. He has to get around the consistent un-helpfulness of the whole police station, but he does it, mostly by old-fashioned sleuthing and being nice to people. Not that this is a feel-good show. There's some pretty gritty stuff going on, but Dangerous's overall naivety and gentlemanly behavior rescue it from being dark.
When it comes to regulars, there's Irishman Mod Lewis, Dangerous's best - well, only - friend. Going from odd job to odder job, he lends pawky humour to the investigation, and gives Dangerous an outlet to air his frustration. Dangerous's two peers, D.S. Pimlott and D.C. Barrett, are wearily one-dimensional, but his boss, the grumpy, street-wise, sometime dipsomaniac, D.I. Ray Aspinall, has surprising depth.
The real heart of the show is Dangerous's interactions with his unpredictable wife, Julie, and his unceasing efforts to restore their marriage. The show also stands out because its characters are flawed, and there's plenty of room for development.
Favorite episode: The Dead Peasants Society
Four seasons, seventeen episodes.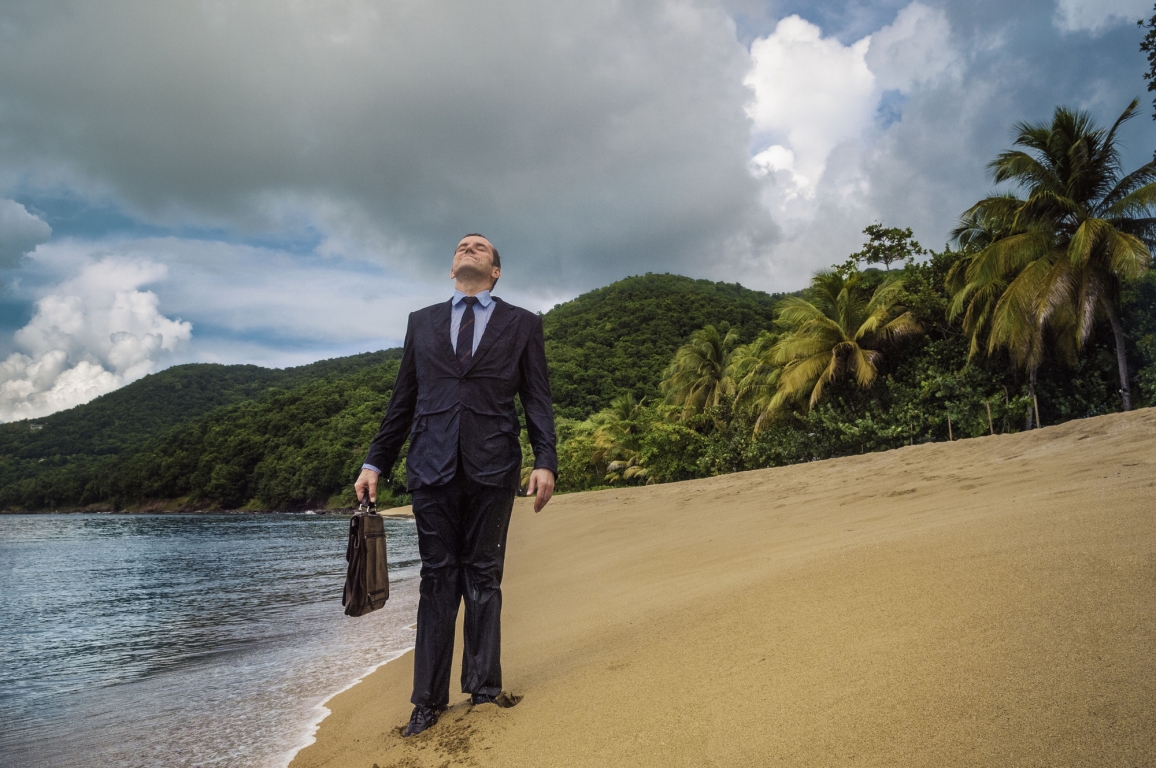 Death in Paradise
Death in Paradise is a pleasant procedural set in the Lesser Antilles. Ben Miller plays uptight, stiffly British police officer D.I. Richard Poole, condemned to fight crime in the Caribbean. The efficient, brusque outsider, he has to deal with the plodding, quirky locals and a tough, no-nonsense partner. Poole and his team solve tidy, compact puzzlers in the tradition of Father Brown or Poirot short stories. We're still fairly early in the series, but it's good fun, though I can't shake the feeling that this is an extended tourism advertisement.
Six seasons, 48 episodes - sixth season airing.
Maisie Dobbs
Maisie Dobbs is a private investigator/psychologist living in the 1920s. She understands the connection between the body and the soul, and that when she takes charge of one, she is responsible for the other. Thus, when clients come to her to investigate adultery, she makes them sign up for marriage counseling at the same time.
Maisie has a pretty complicated past herself, as we discover in the first book. She has a number of companions - from her mysterious mentor Maurice Blanche to the incorrigible feminist Lady Rowan Compton to salt-of-the-earth Billy Beale, a soldier whose life she saved during the Great War. Maisie is an interesting and strong young woman who is a great protagonist to draw us through noir-style wartime mysteries.
Books:
Maisie Dobbs (2003)
Birds of a Feather (2004)
Pardonable Lies (2005)
Messenger of Truth (2006)
An Incomplete Revenge (2008)
Among the Mad (2009)
The Mapping of Love and Death (2010)
A Lesson in Secrets (2011)
Elegy for Eddie (2012)
Leaving Everything Most Loved (2013)
A Dangerous Place (2015)
Journey to Munich (2016)
The character has been
optioned for a TV series.
E.
Endeavour
Inspector Morse ended in 2000, but the character was brought back to life for this prequel, Endeavour, starring Shaun Evans as Morse and Roger Allam as his avuncular mentor, Fred Thursday. Originally intended as a one-off, it got so much attention it spawned a series.
Having just finished watching the old series with John Thaw, this was extremely nostalgic, and I ate up every reference.
We see a young Morse gazing forlornly at a red Jaguar, drinking his first beer, listening to opera, making crazy
imaginative
leaps, and getting in trouble with his boss. I couldn't help but grin when Colin Dexter made his Hitchcock-esque cameo. People who've never seen
Morse
can enjoy
Endeavour
, but I'd still highly recommend watching the old series first.
Morse and Morse; Evans and Thaw
Tackling the legacy of such a beloved show could have gone wrong in a dozen ways, but Endeavour plays it just right. Shaun Evans is perfect as Morse, and while he's obviously his own man, there are several moments when he's John Thaw made-over, and it's so light-handed that it feels accidental. Intellectual, over-confident, an outsider - it's very much the same while being refreshingly new. Young Morse's frustration evinces itself in impatience, which will eventually mellow into old Morse's grumpiness.
His mentor, Inspector Fred Thursday, could easily handle his own show. While not as gruff as, say, old Morse, he's certainly tougher, and isn't above going vigilante in pursuit of justice. He's not an intellectual like Endeavour, but neither is he always a step behind him. He toes the line between sidekick and mentor to perfection. He lets Morse have a say, but there's no question who's in charge.
Sean Rigby as P.C. Strange plays a lovely riff on James Grout's original interpretation of character. James Bradshaw also puts in a lovely performance as Max DeBryn. C.S. Bright, on the other hand, is one-
dimensional
and irritating, likewise D.S. Jakes. Abigail Thaw (daughter of John) is lots of fun as Dorothea Frazil.
The overall feel is somewhat different - a bit less unexpected, and bit more formal, and more inclined to drama. Mystery-wise, it's very much the same incredibly, unrealistically convoluted plots that we see in Morse and Lewis, and I love it.
Favorite episode: Fugue.
Four seasons, 17 episodes (counting pilot) - ongoing.
My reviews:
Season 1
Episode 1 - Girl
Episode 2 - Fugue
Episode 3 - Rocket
Episode 4 - Home
Season 2
Episode 1 - Trove
Episode 2 - Nocturne
Episode 3 - Sway
Episode 4 - Neverland
Season 3
Episode 1 - Ride
Episode 2 - Arcadia
Episode 3 - Prey
Episode 4 - Coda
Season 4
Episode 1 - Game
Episode 2 - Canticle
Episode 3 - Lazaretto
Episode 4 - Harvest
F.
Miss Fisher's Murder Mysteries
The beginning of this series finds the Honorable Phryne Fisher (Essie Davis) just returned to her home country of Australia after an extensive stint in Europe. It's the roaring 20's, and Phryne's in her element. Glamorous, intelligent, and daring, she's a dramatically modern character with regards to social morals, but the show is not quite as salacious as she is: aside from the occasional shock-to-the-conservative-system (mostly due to a constant procession of musclebound artists and languid dancers that catch her fancy), it's quite a cozy, lighthearted romp.
Naturally, the instant Phryne returns to Melbourne a man falls dead, just in time for her to shoehorn her way into the investigations. After solving that case, it isn't long before she's set up business as a private detective. Thereafter she prowls the streets of Melbourne on the hunt for murder, mayhem, and wrongdoing, packing her dainty gold pistol and a formidable, simply
marvelous
wardrobe (seriously, it is the eighth wonder of the modern world.)
Strait-laced Inspector Jack Robinson (Nathan Page) is, by turns, Phryne's nemesis, ally, friend, and as much of a love-interest as a decent man with an estranged wife can be. Nathan Page, with husky voice and one-note fashion style, is a suitably stolid foil to Essie Davis's extravagance, giving the character an endearing warmth and nobility. Page and Davis work well together, and there's an undeniable chemistry simmering in the background.
In her adventures, Phryne manages to accrue a sizable household of outcasts and ne'er-do-wells. There's Dot, her mild-mannered, sweet-tempered Catholic maid, who is quickly smitten with Jack's fresh-faced sidekick, Constable Hugh Collins. A pair of salt-of-the-Earth taxi drivers - Bert and Cecil (alas, not Ernie) provide Phryne with valuable contacts in the city. There's a light-fingered orphan named Jane and an omnipotent butler who shimmers in and out, always ready with the perfect item (his name, perhaps understandably, is Mr. Butler). Matronly Aunt Prudence appears at times, as well as Phryne's friend, Doctor Macmillan. This ensemble cast provides the perfect back-drop for Phryne's adventures.
As for the adventures themselves, they tend, at first, to be a bit on the predictable side. While they grow better as the first season progresses, it is usually quite simple to guess the culprit, and the attempts at misdirection are not exactly complicated. That said, glamour and charm cover a multitude of sins, and that's a good thing, as Phryne's sins, she says, "are too many and varied to mention, and frankly I intend to continue sinning." In season two, I have found, the crimes are much more twisty and enjoyable.
Three seasons, thirty-four episodes. Possibly ongoing (we know they're doing a movie).
Foyle's War
Detective Chief Superintendent Christopher Foyle. Quite a mouthful. Luckily, it's just Foyle for most of Foyle's War, one of my
all-time
favorite shows. He introduces himself so: "My name's Foyle, I'm a policeman." And that's it. He doesn't go in for titles.
Foyle is a created-for-TV detective who quietly battles crime in 1940's wartime Britain.
When it comes to mystery, the stories are pretty formulaic, with the classic Agatha Christie body-in-the-library tone, but the war lends another layer to an otherwise conventional setting.
Foyle doesn't just deal with good old-fashioned murder, but also corruption, war crimes, spies, government cover-ups, and the Blitz.
Against this backdrop, Foyle is in his element. His methods consist of little more than never backing down in the face of power, and doggedly pursuing the case, regardless of obstacles. His resolute, unwavering determination to get his man brings him into conflict with his superiors again and again. This is an apt description I read in a review:
Foyle is a rarity in today's detective-saturated TV landscape, a crime-solver without quirks or a damaged past. He has no demons, no drinking problem, no distracting love life, no comedic partner. Kitchen plays him with an almost unnerving amount of stillness, taking classic underacting to a new level. He's like an embodiment of the wartime slogan "Keep Calm and Carry On." And in his quiet way, he's as watchable as any scenery-chewer; his lips slightly pursing while a suspect lies to him is just as thrilling (or more so) than Kiefer Sutherland pistol-whipping a suspect on

24.
Eight/nine seasons, 28 episodes.
Favorite Episode: They Fought in the Fields/Plan of Attack
My reviews:
Season 7 -
Episode 1 - The Eternity Ring
Episode 2 - The Cage
Episode 3 - Sunflower
Season 8 -
Episode 1 - High Castle
Episode 2 - Trespass
Episode 3 - Elise
You can watch
the first two seasons for FREE on Hulu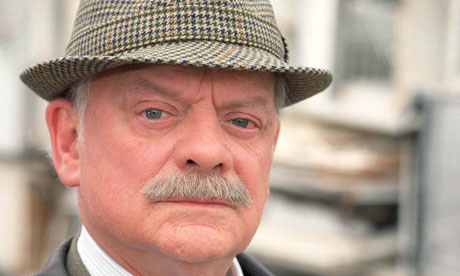 A Touch of Frost
William "Jack" Frost is the titular character in this long-running British favorite. David Jason puts all his charm and irascibility into Jack, a toughened copper living in modern, urban London. Like Morse, he has little patience for political correctness, and operates on a mixture of emotion and gut feeling, empathizing with the underdog, defending the weak. While the dullness of the setting is off-putting, Jack's character - his quirky sense of humor, his deep moral sense - is interesting enough to compel me further.
Fifteen seasons, forty-two episodes, 1992-2010.
Gracepoint
Gracepoint is a remake of Broadchurch. It's also somewhat of a cheap rip-off that has copied all of Broadchurch's originality, shoved it into a milder American mold, and toted it as a new deal. Anna Gunn is no Olivia Colman, which is a fatal blow to what could have been an interesting other-side-of-the-pond take on small towns and murder.
It's worth watching for Nick Nolte - and Tennant, at times, justifies himself, but there's little else to recommend it. Watch
Broadchurch
. Now.
*
Episode 4
*
Episode 5
*
Episode 6
*
Episode 7
*
Episode 10
Grantchester
Set in 1950s Cambridge,
Grantchester
manages to up the crime rate in and around England's
other
university, Cambridge. Sidney Chambers is a vicar, war veteran, and sometime sleuth. While serving his tiny parish of Grantchester, he runs into any number of sticky situations. His eye for detail and inquisitive nature, coupled with the fact that, as a priest, people confide in him, means that Sidney is frequently recruited as unofficial investigator of parish mysteries. He may be strait-laced, but he has a number of secrets of his own, keeping the audience guessing.
He enlists as his sidekick grizzly atheist Inspector Geordie Keating (a sardonic Robson Greene - who has terrific chemistry with Norton). Sidney also gets occasional visits from his sweetheart, Amanda, and his sister, Jennifer, both of whom serve to draw him into more centers of crime (y'know, like swanky dinner parties.) There's also his fidgety assistant, Leonard, and no clerical detective's ensemble is complete without a Pharisaical housekeeper, a role filled by the irritable Mrs. Maguire.
It has lots of style. Chock-full of luxurious period detail, the series maintains a dark tone which belies its innocent, Agatha Christie exterior. But this often makes it feel like it is trying too hard to remind us that this priest ain't like the others, he's got street cred.
Like the earlier seasons of
Father Brown
, the show does its very best to defang the beliefs of its religious protagonist. Given the fact that the source material (written by James Runcie, son of an ex-Archbishop of Canterbury), is rather mild as it is, it's a wonder that
Grantchester
could further lighten its theological weight, but it manages it. While the pleasant Sidney Chambers of the book was laid-back and contented, TV Sidney must be haunted, weak, and uncertain.
One season, six episodes - ongoing. A second season airs this spring.
Based on the book by Douglas Adams (yes, that Douglas Adams), this is a show that is so caught up in its own eccentricity that it can't find a stable routine. Dirk runs Dirk Gently's Holistic Detective Agency, which operates on the philosophy that "the fundamental interconnectedness of all things" will inevitably lead to a solution. He has his own personal dumb sidekick, Gordon. Mix all this together with plotlines that occasionally resort to abrupt science fiction explanations (fatal in the detective genre, a bastion of rationality), and some adult humor, and you get a show that has no idea what it wants to be.
One season, 4 episodes.
Inspector George Gently
This show takes place in the 1960's - a time not generally taken on by period dramas (besides Endeavour.) Gently and his reluctant sidekick, John Bacchus, are quite a pair. Bacchus is arrogant, self-important, unreliable, and ambitious, but also kind of loveable.
By contrast, Gently is a saint. He's sort of the benevolent, liberal mentor who's a little too tolerant for a man of his time. The interaction between the two is entertaining and sometimes tense. It occurs that their relationship is like a tougher, modern British version of Andy Griffith and Barney Fife, with one being strong and enlightened, the other a self-important smart-aleck who, when given responsibility, becomes a bully. Bacchus's immaturity gives him room to grow, and the relationship between the two men is compelling.
Seven/eight seasons, 23 episodes.
Favorite episode: Gently Upside Down
Heat of the Sun
Heat of the Sun was a brief series back in the 90s, canceled before it could really hits its stride. Part of the problem was that each of the three episodes has a distinct and wildly divergent stride. Episode one is splendid, a mixture of Sam Spade, Indiana Jones, and Sherlock Holmes.
We first meet Superintendent Albert Tyburn in the black, mist-shrouded alleys of 1930s London. He's chasing a particularly foul suspect, and when the pursuit is fruitless, his exhaustion and despair drive him to a desperate course of action. In the aftermath, the Met bundles him off to the fringe of the Empire: Kenya. Almost immediately, he runs into trouble, crossing the governor of the colony. Over the course of the story, the intrepid, weathered, mysterious, solemn-but-quick-to-smile Tyburn has a series of raucous adventures reminiscent of old 30s serials. It's a time period when a man's hat is almost more important than he is - a faded, battered fedora which he dons magnificently after every fist fight (and there are many, as masterfully staged as any cinematic fights I've seen - each punch carries real weight).
Trevor Eve (who has, as yet, evaded my telly-watching) is wonderful as Tyburn. He obviously disapproves of the rampant racism and decadence of the British community, but the script is mature enough to recognize that protesting this too loudly would not only be anachronistic but, in context, foolish. Instead, he makes justice in small ways, in the confiding wink to the mistreated servant, in his insistence that his African corporal exit the room before him. He is an outsider himself, looked down on by the upper-class snobs, mistrusted by the natives.
All of this is played superbly. Unfortunately, the show takes a nose-dive in the other two episodes. Losing the dangerous edge and pulpy adventure, it instead takes on a Miss Marple feel, as Tyburn interrogates mild, middle class Brits in their Sunday parlors.
One high point is the inclusion of Tyburn's three sidekicks. There's
Assistant
Superintendent Valentine (Julian Rhind-Tutt), an impeccably dressed crack-shot officer. David Horovitch is a makeshift pathologist, Dr. Mueller. Lastly, there's
Freddie Annobil-Dodoo as Corporal Jonah Karinde, a promising young recruit who doesn't have the time to get much character development.
Another star of the series is Africa itself. The series had tremendous atmosphere, and the first episode hinted at an intriguing world: hard-boiled African noir, as it were. Too bad the rest of the series didn't live up.
One season, three episodes (last two stories split into two-parters.)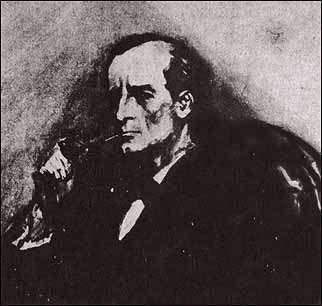 The Sidney Paget illustration of Holmes, which
will
always
be my mental image
of
the detective
Sherlock Holmes
Sherlock Holmes's

personality is extremely...as he would say himself...singular. The Holmes of the book is intriguing because he is, himself, a mystery. Little is known about his background, though he as a number of unusual skills. He smokes like a steam engine, occasionally uses cocaine, is a great swordsman, single-stick player, and boxer, as well as being versed in martial arts (including the mysterious baritsu). He has an

encyclopedic

knowledge of the soil for fifty miles around London and of botany when it comes to poisons. He's a cryptoanalyst, WWI spy, and a great violinist.
His methods, though coming off as somewhat clichéd today, were cutting edge in Conan Doyle's times. Now, it's a little difficult to be excited by Holmes checking for footprints, cigar ash, or posting advertisements in the Times, because that's what all detectives do. Conan Doyle pretty much created the genre. Using these methods of gathering evidence, Holmes makes extraordinary inductive leaps from A to B. (Aside: He calls his methods deductions, but that's incorrect. Deduction is deducing particulars from general facts; induction is taking the particulars and expanding to the general).
His motto is "Once you have eliminated the impossible, whatever remains, however improbable, must be true."
I respect Holmes's readiness to do most of his own legwork (unlike the self-professed armchair detective, Poirot - or his own brother, Mycroft Holmes), though he jumps to conclusions a bit too often for my taste.

This, coupled with the series's atrocious broaching of S.S. Van Dine's rules of Fair Play (admittedly, only firmly established after Conan Doyle's heyday), turned me off of the Master for many years.
I'm starting to repent.
Now, on to TV...
An article I wrote on various Holmeses.
Sherlock Holmes (2009, 2011)
My first real introduction to Sherlock (besides the cultural osmosis image of cerebral Holmes and bumbling Watson originating in the Rathbone/Bruce adaptations) was the recent Robert Downey Jr. films - more action flick than mystery. Frankly, I loved them (though I liked the second less, feeling that despite its darker tone, it relied a bit too much on slap-stick and double entendre on the Holmes/Watson "bromance".)
These films succeed, mostly, by dint of audacity.
Running on enthusiasm, swift pace, and witty banter, this Indiana Jones-esque Holmes is decidedly more charismatic than any adaptation since Jeremy Brett, though possibly he has been overshadowed by Benedict Cumberbatch (more on that later.) The chemistry between Downey's quirky Holmes and Jude Law as a very respectably unbumbling Watson is the real heart of the films. Hans Zimmer's score is magnificently odd, perfectly capturing the slightly drunken, macabre, adventurous feel.
Two films: Sherlock Holmes and Sherlock Holmes: Game of Shadows. There's a third in the works, possibly for a 2017 release.
Jeremy Brett (1984-1994)
Now back to the 80's and Jeremy Brett, widely considered to be the most accurate portrayal of Holmes. Brett turns up the eccentric. He's a bit too dramatic for my taste, but if you're a die-hard Victorian-Holmes fan, he's the ticket.
Brett is a bipolar Holmes, incorporating the wilder elements, the cocaine, the nervous ticks.
For the first few episodes, it comes off as ridiculous extravagance, but once you've gotten used to the bizarreness of it all, he's quite fun.
Of the show's two Watsons, I prefer the first, David Burke. Warmer and funnier, he isn't content to sit on the sidelines and flatter Holmes. There also seems to be a lot more camaraderie between him and Brett. The second Watson, Edward Hardwicke, is closer to the books: the patient, laid back observer, there only as a foil for Holmes, but in film this can become a little wearing.
Still, like Brett, he improves on closer observation, going in for quiet chivalry.
Lestrade makes a few appearances, usually as a sort of annoying, superior jerk, with the notable exception of The Six Napoleons. Charles Gray is a cantankerous Mycroft and the brothers' relationship is competitive without being as childish as Gatiss and Cumberbatch in Sherlock. Rosalie Williams makes a charming Mrs. Hudson, surprisingly memorable despite her lack of screen-time.
I'd recommend starting early, for as Brett's health deteriorated he ceased to look the part, and at the same time, the quality in the writing began to vary.
The highest point would be the first three or four seasons.
Six seasons organized into four series:
The Adventures of Sherlock Holmes
The Return of Sherlock Holmes
The Memoirs of Sherlock Holmes
The Casebook of Sherlock Holmes
Thirty-six episodes, 5 feature-length specials.
Favorite episode: The Naval Treaty/ The Final Problem/ The Master Blackmailer (Honorable mention goes to The Illustrious Client because I love to see Anthony Valentine - known to me as Raffles, master jewel thief, go toe-to-toe with Sherlock Holmes.)
Sherlock (2010-)
Popular phenomenon Benedict Cumberbatch, of the BBC's modern reimagining Sherlock, turns Holmes into a "highly functioning sociopath." While there's a slight attempt at puzzle mysteries, this is mostly a modern thriller, a game of cat-and-mouse. Sherlock's bumbling attempts to relate to other people form the emotional arc. In that sense, this is more of a character piece than a mystery show, even more so as it goes along.
Martin Freeman is a superb Watson, and the show is at its best when he's the audience stand-in. Holmes and Watson, as portrayed by Cumberbatch and Freeman, contrast in every way. Holmes is elegant and cat-like, sociopathic, and immature. Freeman is short, fair, and no-nonsense - he has an instant admiration for Sherlock's obvious genius, and enough humility to express it.
There are many splendid peripheral characters. Sherlock's enigmatic brother, Mycroft is a highlight. There's also patient, plodding cop Inspector Lestrade and Holmes's landlady, Mrs. Hudson. Moriarty isn't quite like any other Moriarty before - a cross between the Joker and James Bond. Molly Hooper and Mary Morstan round out the regular cast.
The writing, direction, and general style mark Sherlock as a highly unique contribution to the Holmes legacy, but as the show goes on, it has become more self-referential, to its loss, going on a downward X-Files spiral. The last two episodes of series 4 show some promise, but also conclude with what feels like a final ending.
Four seasons, twelve episodes and one Christmas special - ongoing?
Favorite Episode: The Reichenbach Fall
My reviews:
Season 3 -
Episode 1 - The Empty Hearse
Episode 2 - The Sign of Three
Episode 3 - His Last Vow
Christmas Special -
The Abominable Bride
Season 4 -
The Six Thatchers
The Lying Detective
The Final Problem
Elementary
This show seemed, at first, to be a cheap imitation of Sherlock. In that CBS obviously is playing off the detective's sudden popularity, due mostly to the Cumberbatch and Downey Jr. Holmes, it's true that it is a money grab. But once the spirit of This Isn't As Good As Sherlock wears off, Elementary can easily stand on its own two feet.
The thing is, its own feet is about all Elementary is standing on. Sir Arthur Conan Doyle might as well have never existed.
Unlike Sherlock, this show bears little resemblance to the originals, borrowing only names. Even genders have been switched - we have Dr. Joan Watson instead of the usual bumbling bachelor, John.
221B is only once visited: it's Holmes's old residence. He's now living in the Big Apple.
This isn't really a whodunit. It's more of a procedural, with fairly banal character subplots.
Watson and Holmes feel like modern people, living in New York City. Sherlock is a recovering drug addict, and has the rough edges to prove it.
Taking them on their own terms, Jonny Lee Miller and Lucy Liu make an interesting, original team, and are a refreshingly platonic couple. Holmes is far from omnipotent, and while he's quite clever, he and Watson are clearly on the same level. He's certainly not The Master. On the other hand, this allows Watson to shed the sidekick stigma and become her own character. These stories aren't particularly clever, but as something to watch, they're decent fare.
Five seasons, 107 episodes - ongoing
J.
D.I. Michael Jericho. Robert Lindsay is a terrific actor,;it's a pity he's squandered on this confusing, politically heavy-handed 50's noir series. While a marvelous mishmash of props and atmosphere makes us feel like we're in the 50's, the pacing is so harried and almost drunken, that we have no time to settle down and observe
. Jericho himself is charming, funny, and interesting, but shows little intelligence. Are we really to believe that he's a media darling, police hero, brilliant detective? No. Go back to sea, Commander Pellew.
L.
Charles Lenox Series
Charles Lenox (of the books by Charles Finch) is an aristocrat amateur detective in the days of Sherlock Holmes. He treats his butler like an old friend but pals around with the rich and famous. He's a perfect gentleman to his neighbor and love interest, Lady Jane. He is noble, intelligent, handsome, amiable, athletic.
I'm not asking for Inspector Morse, but it would be nice if the rarefied Golden Age are could occasionally be polluted by human error.
There's so little mystery to Lenox's person that there's really no point in following his character development.
But while this is annoying (perhaps it improves in later stories), the mystery and painstaking historical detail with which the stories are crafted make up for it.
These stories definitely fall into the puzzle mystery category, focusing on the twists and turns of plot rather than the thrills one finds in most shows these days. As the author is American, he helpfully explains much of the inside information which would be more obvious to Brits. Pleasant enough cozy historical tales.
Books:
A Beautiful Blue Death
The September Society
The Fleet Street Murders
A Stranger in Mayfair
An East End Murder
A Burial at Sea
A Death in the Small Hours
An Old Betrayal
The Laws of Murder
Home by Nightfall
(upcoming)
If you like the Lenox series, try
Sherlock Holmes,
Poirot
or
Maisie Dobbs
.
Robbie Lewis has seen more murders than any other TV detective, playing the character for 29 years, beginning with Inspector Morse, and continuing now into his own series. He's down-to-Earth, irascible, and quick to bond with grieving suspects.
At the beginning of the series, Robbie's getting over the loss of his wife, Valerie, killed in a hit-and-run accident. The loss has mellowed him into a much less happy-go-lucky character, in an obvious attempt to imitate the persona of his old mentor, Morse, which doesn't quite work. His gloominess is contrary to his character - he simply doesn't have the depth to pull if off.
In the end, despite providing an emotional center and compassionate policeman, Lewis's biggest failure is a lack of surprise.
On the other hand, his sidekick, James Hathaway, is decidedly interesting. James went to school at Cambridge and is easily smarter than his mentor Lewis (an interesting twist). He was originally a theology student, and though his Christianity is ambiguous, it's nice to see it treated (usually) with respect. Also, he sings.
Whately and Fox have a pleasant chemistry that carries us through even the most ridiculous plots.
There's the occasional really good episode, but Lewis is far more plodding than the other Morse spin-off, Endeavour. It's saving grace is its coziness: it's light-weight, nostalgic, and features uniformly fine acting and a frisson of literary atmosphere.
Stylistically, Lewis is well in keeping with the Colin Dexter style, with the crazy complex plots and drama among the beautiful spires of Oxford. The music is terrific, and production values have soared since the sometimes slapdash Morse. As always, the cast is packed with wonderful British character actors.
My reviews:
Season 8 -
Episode 1 - Entry Wounds
Episode 2 - Lions of Nemea
Episode 3 - Beyond Good and Evil
Season 9 -
Episode 1 - One For Sorrow
Episode 2 - Magnum Opus
Episode 3 - What Lies Tangled
Nine seasons, 42 episodes (technically thirty-three, as the last nine are split into two-parters.)
Luther
It has been observed
rightly that
Luther
is not as smart as it thinks it is. Idris Elba is, indeed, magnetic as D.C.I. John Luther, bringing a mix of physicality and slightly insane brilliance to the role. Unfortunately, the writers can't really live up to him. The first episode is very good, hinting at something as smooth as
Sherlock
, but it quickly devolves into clichés and gratuitous violence. This is, however, partly why people like it. Maybe it's just that I'm not a huge fan of pulp, but this show really needs to learn to suggest instead of shout.
It's true that it does boast a fine supporting cast. Saskia Reeves is fun as Luther's Cockney boss. Indira Varma plays Luther's wife with a suitable amount of ambiguity. Paul McGann and Steven Mackintosh are together for the first time since
Our Mutual Friend
, though they share little screen-time till the end of season 1. The real show-stopper, however, is the enigmatic Ruth Wilson as Luther's serial killer pal, Alice. Their philosophical jousting matches add some weight to an otherwise completely ridiculous story.
Four seasons - 16 episodes - ongoing (plus, God help us,
an American remake
, and
a Russian one
.)